Order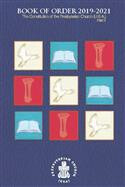 2019-2021 Book of Order
This book is Part II of the Constitution of the Presbyterian Church (U.S.A.). This volume contains the Foundations of Presbyterian Polity, the Form of Government, the Directory for Worship, and the Rules of Discipline. Additional information is provided to the reader through theinclusion of Received Ecumenical Statements of Guidance and Articles of Agreement.
Join others in ordering the newest edition of the Book of Order at the discounted price of $8 each. We will accept orders through August 30th.
Your order will be available to be picked upon arrival at the Presbytery Office or at the September Presbytery meeting.
You may download a free PDF copy here.
Contact Rose Onan at or 989-799-7481 x6 with any questions.
Please use the order form below.
Checks should be made payable to the Presbytery of Lake Huron. We also accept Visa, MasterCard, American Express, Discover, Apple Pay or Google Pay.
Contact Rose Onan at or 989-799-7481 ext. 6 with any questions.