Order
2019-2020 Presbyterian Planning Calendar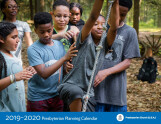 This 16-month calendar – starting September 2019 and ending December 2020 - contains many planning aids for pastors and other church leaders. Includes lectionary for Sundays and special days, liturgical days, liturgical colors, resource information for PC(USA) programmatic emphases, updated synod, presbytery and Presbyterian Mission Agency staff directories, color foldout synod/presbytery and world maps.
Order Copies Now
The Presbytery Office will place a bulk order for the 2019-2020 Presbyterian Planning Calendar for individuals and churches. Pre-orders are now being taken. Please note: calendars will not ship until August 2019. The calendars will be available for pick-up upon their arrival at the Presbytery Office or at the September 17th meeting at Mt. Pleasant-First.
Cost per calendar is $9.00 and all orders must be pre-paid. Rose Onan will email you an invoice when she receives your order and payment is needed by July 26, 2019. Unfortunately, there are no cancellations after July 26th.
Checks should be made payable to the Presbytery of Lake Huron. We also accept Visa, MasterCard, American Express, Discover, Apple Pay or Google Pay.
Contact Rose Onan at or 989-799-7481 ext. 6 with any questions.