Order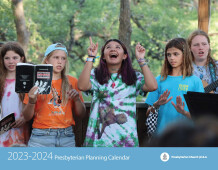 Presbyterian Planning Calendar 2023-2024
This 19-month calendar contains many planning aids for pastors and other church leaders. Includes lectionary for Sundays and special days, liturgical days, liturgical colors, resource information for PC(USA) programmatic emphases, updated synod, presbytery and Presbyterian Mission Agency staff directories, color foldout synod/presbytery and world maps.
Cost per calendar is $10.50 and all orders must be pre-paid. Payment is needed by July 27, 2023. Unfortunately, there are no cancellations after this date.
You will be notified when the calendars have arrived (expected around mid-August) and arrangements for pick up or delivery can be made at that time. They will also be available for pick up at the September presbytery meeting at Saginaw-Countryside.
Please use the order form below.
Click here to pay online. If you prefer to pay by check they should be made payable to the Presbytery of Lake Huron.
Contact Rose Onan at or 989-799-7481 ext. 6 with any questions.